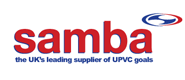 Manufactured in the United Kingdom from high impact uPVC, Samba football goals are a lightweight, highly portable post and net system that are quick and easy to assemble. Suitable for use on almost any surface and virtually maintenance free, Samba goals will fit into an average size family car, for easy transportation.
Perfect for use as a portable goal in schools, clubs, on synthetic pitches or in the garden/park.
Samba goals can be found in many Premier League football academies, including Manchester United, Arsenal, Everton and Chelsea. Samba's "Match" range of goals have been certified to BS 8462:2005 for 7v7 and 9v9 football. Samba's new 'PlayFast' range features their innovative fast folding joints, which allow 'PlayFast' goals to be constructed in under 60 seconds!